Underfloor Heating Perforated Mattress Manufacturing
What is Underfloor Heating Perforated Mattress?
It is a metallized mattress developed in accordance with the systems used for heating under wooden floors in your home and work places. It is the insulation material used to prevent deterioration and swelling of your laminate and parquets exposed to high temperatures or point temperatures over time.
---
Why use Underfloor Heating Perforated Mattress?
The mattress which is used for insulation under the laminate flooring also gives some flexibility to the laminate flooring and prevents minor faults on the floor. In addition to providing great convenience to life as a definite solution to the noise and noise in the form of impacts that may occur in the parquet, heat is spread all over the floor thanks to the heating cables placed between aluminum foils. In this way, it protects the parquet and provides a homogeneous heat distribution.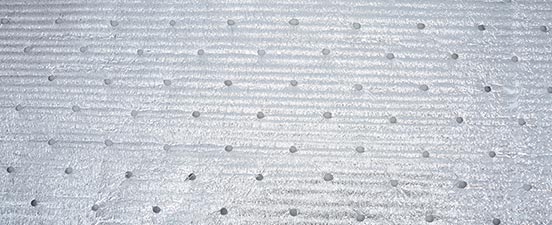 | | Unit | Color | Dimension |
| --- | --- | --- | --- |
| 100 cm. Width | roll | Standard White | 50 m |
| 100 cm. Width | roll | Standard White | 100 m |
Special productions can be made if there are sufficient quantities. Different colors are available, you can contact us for order.
Reduces footsteps in space.
Prevents sound from going downstairs.
It provides heat saving.
Protects parquet from moisture.
Demirci Köyü Organize Sanayi Bölgesi Kadir Bozkurt Caddesi No:14/1 SİNOP